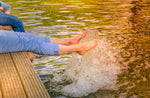 Cons of Not Sugaring Your Legs
If you are someone who likes to remove their leg hair, then you should consider sugaring your legs instead of shaving, waxing, or lasering. That's because the sugaring hair removal technique is perfect for sensitive skin, a simple process, a sustainable solution, and a skin conditioning method.
SugaringLA is not only about removing hair, but also about treating your skin and body. We want our popular treatments to inspire everybody, mind and spirit through simple warmth, lasting service and earthly care. 
If you're nervous or uneasy about this seemingly intimate process, know that our sugarists make sure that every individual who comes to our studios feels welcomed, informed, and supported throughout their sugaring experience. That's because we celebrate inclusivity at sugaringLA. 
Sugaring removes hair at the root, which overtime will slow the hair's growth and reveal thinner lighter leg hair. 
Compared to waxing or lasering, sugaring is a less painful process. With a large area like the legs, it can be hard to sit through a waxing session. However, sugaring doesn't burn or aggravate the skin because the paste is lukewarm and gentle because it only adheres to dead skin cells, not live ones. 
Our all-organic sugar paste made of lemon, sugar and water exfoliates, conditions and soothes skin, making it safe for all skin types, hair textures and skin sensitivities so you can walk out of the studio with smooth, unirritated, flawless skin. This mixture is also anti-inflammatory, antiseptic, and moisturizing for the skin, which is great if you're prone to ingrown hairs, razor burn, or sensitivity while removing your leg hair.
Sugaring will make your legs glow and feel silky smooth. The process gives your legs a gentle peel that naturally exfoliates the skin. 
The results of sugaring your legs are long-lasting. For 3-5 weeks after sugaring, you will have soft, glowy legs. 
After multiple sessions, you will notice your leg hairs growing back softer, making your legs less rough to the touch even after your hairs are getting longer.